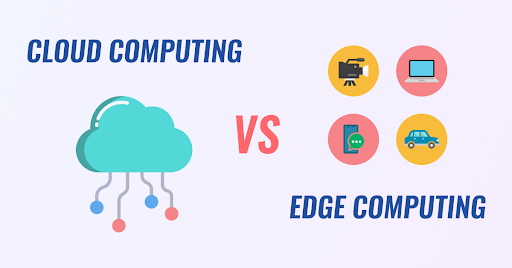 Edge and cloud computing are two terms that have been gaining popularity in recent years. This article will explain their basics, how they differ, and where their future is headed.
What is Edge computing ?
Edge computing is a distributed system that allows for intelligent administration in close proximity to things or information resources. It coordinates the abilities of systems, networks and applications in order to provide an overview of all data streams. By doing so, edge computing fulfils critical requirements for industrial digitization while also protecting networks and providing insurance benefits.Edge computing is a topic with many definitions based on the person's field of study or interest.
IBM defines edge computing as a distributed platform that allows enterprises to access enterprise applications from IoT devices or local servers.
Advantage of Edge Computing
Edge computing is "the practice of processing data close to its source, rather than in a centralised data processing facility." Hewlett Packard defines edge computing as the use of technology that allows for data processing near the boundaries of a network
The primary benefit of edge computing is that it allows for timely access to data by automating and managing this process on a physical level. By doing so, edge computing reduces the risk of network breakdowns or slowdowns when accessing critical information from cloud services.
Edge computing provides you with absolute control over data at its most sensitive point - the moment it is accessed by a computer. You can choose which pieces of information to keep, route them in different ways, and even encrypt or disguise them. Additionally, you have the ability to protect data privacy, reliability and security by controlling where it is sent and how long it remains accessible.
facial recognition technology on smartphones is possible because AI retains the image of your face in the cloud. This prevents it from being accessed by unauthorised individuals, and also safeguards your privacy and security.
Reduced Latency
Edge computing has low latency because the network is stable and there are not long wait times for information.
Lower Costs
By processing your data at the edge, you can reduce the cost of uploading and storing cloud-based information. By relying on summaries or key insights instead of all of your data, you can save money.
What is Cloud Computing?
Cloud computing is essentially the internet, with different definitions depending on who defines it and in which field they are experts. This definition changes based on the interests of IT companies, academics, industrial specialists, and analysts.Cloud computing refers to a service which is provided by other companies, and accessed through the internet. This can include accessing hardware and software services from a remote location.
IDC defines cloud computing as a delivery model that enables the provision of products, services, and solutions over the Internet. This is likely occurring in real-time due to its emergence within the IT industry.
Advantage of cloud computing
Cloud computing is the delivery of personal and business productivity applications from centralised servers. Merrill defines this practice as "the idea of using remote, electronic devices to access stored data or programs". Cloud computing provides an advantage by allowing users to access their data from any device, at any time. This includes applications that are pre-installed on a server and can be used with no restrictions or limitations.
Difference Between Edge and Cloud Computing.
The term edge refers to devices at or near the physical location of either the user or the source of the data. Cloud computing is an umbrella term that describes any application running on a cloud, while edge computing is the act of running workloads on edge devices.Cloud computing is a centralised process that enables it to handle large data loads easily and at a lower cost.
Cloud computing is becoming increasingly popular because it has a large capacity compared to on-site storage and processing. Regardless of the size or volume of data, cloud computing can handle it.
Sometimes you cannot or do not need to send your valuable data to the cloud for processing. These include: - Cases where you have local storage that can effectively process the data without sending it over the internet - Cases where there is a risk
The Future of Edge and Cloud Computing.
Although edge computing provides fantastic benefits, it won't overtake cloud computing. Instead, both will continue to work together to enable efficient, secure and scalable business processes.
According to Grand View Research, the global edge computing market will expand at a 38.9% annual growth rate from 2022 to 2030. Precedence Research estimates that the global edge computing market will reach $51.2 billion in 2023 and exceed $116.5 billion by 2030.
Cloud computing is powerful and expansive, and it will continue to grow in the future. Cloud computing is a cost-effective way to offer services, and companies use it for their growth. The future of cloud computing is bright, and it will provide benefits to both the host and customer.
Edge computing has certain limitations. One problem with this approach is that it limits resources such as batteries, storage, bandwidth and computing power.Some experts believe that we should consider cloud and edge as parts of a computing continuum, where the cloud retains the central position in a network while the edge complements it from its "edges".
Quicknote
We can look forward to a bright future for both computing frameworks. Cloud services are already on the rise, and edge computing will help you take advantage of that trend by combining cloud capabilities with decentralised networks.